Home on Prom Night
A downloadable game for Windows and macOS
It's 198X, and Dawn has been rejected by her more popular friends, leaving her home alone and missing her prom. As far as she's concerned, that's the worst thing to happen to anyone tonight. If only she was right.
Her friends' post-prom partying has just been interrupted by a serial killer, and now there's a massacre happening down at the old lover's lane. Teenage blood is spilling. Limbs are flying. The town's dark past is coming back with a vengeance. And Dawn is oblivious to all of it. She's only interested in what horror movie to watch next, not the one unspooling down the road...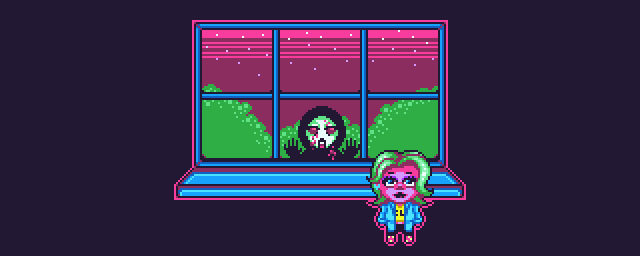 Home on Prom Night is a short parody of '80s slasher movie tropes, seen through the eyes of someone whose only concept of a knife in the back is her friends signing up for camp counsellor jobs without her.
With all original pixel art and sound effects.
Secret ending? What secret ending?

Download
Click download now to get access to the following files:
Comments
Log in with itch.io to leave a comment.
I see someone in the window...
Love the game! Tho I found a tiny bug :(. In my second run, I was trying to see if I can get Dawn to not lock her door and then I accidentally got her stuck behind her table with the hair bows. She wasn't moving around it to complete the action and I couldn't control her afterwards. Besides that, I had a good time playing it!!!
Thank you, I'm glad you liked it! Did you get stuck while she was moving across the room? I appreciate the feedback.
Yeah, I did! There was a little pockets of time that I was able to move her and I somehow got her behind a table :/ My little theory got debunked real quick lol
It's UNBELIEVABLE how many degrees of sass and ignorance are in this game!Side note, FOUND THE SECRET ENDING! Totally worth it.
YOUTUBER: Maya, The Bubble E1 (don't forget to subscribe!)